As published in Packaging Digest, 9/25/2008 with updates in 2016
Adhesive: a substance capable of the surface bonding together of materials.
Aggregation: Aggregation means building the parent-child relationship as products move through the packaging stages of the supply chain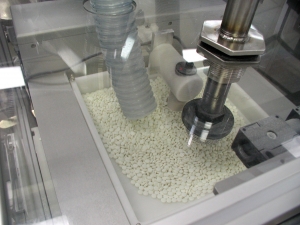 AIM: Automatic Identification Manufacturers.
AIM Internationali s a global affiliation of trade associations.
Algorithm: a set of steps taken to make a desired calculation.
Alphanumeric: character set made up of digits and letters of the alphabet.
Ampoule: single dosage container made from glass sealed after filling by fusing the glass neck.
ANA (UK): Article Numbering Association.
Application weight: he amount of adhesive or other coating per unit area.
Artwork: copy supplied for origination purposes, indicating colour separation and half-tones.
ASCII: American Standard Code for Information Interchange (a computer code consisting of 128 alphanumeric and control characters used for the exchange of information between computerised systems).
Aseptic packaging: a system in which the product is sterilised before filling into pre-sterilised packs under aseptic conditions.
Auger feed: screw feeder used to discharge known volumes of powder or paste products.
Auto discrimination: the ability of a bar code reader system to distinguish automatically between two or more symbologies.
Bar code: an array of parallel rectangular bars, arranged according to specific rules, to represent data in machine-readable form.
Bar code character: a group of bars and spaces within a bar code that represent a single letter, number or character.
Bar code density: the number of characters that are represented in a bar code per unit of length (characters per inch, cpi.).
Bar code reader: a device used to capture the data encoded within a bar code and convert it into computer compatible data or a human readable characters display.
Bar code symbol: the combination of characters required by a particular symbology that makes up a scan able entity.
Batch code: combination of characters that facilitates tracing of the product to the batch in which it was processed (see LOT).
Bioburden: population of viable microorganisms on an item (ref. ISO 11607:2003(E)).
Biodegradable: degradable under natural conditions, e.g. in landfill.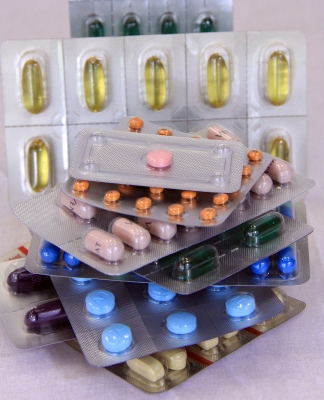 Blister pack: a piece of thermoformed material bonded to flat material to form a closure (lid).
Blister packer: a system to fill, lid and seal blister packs.
Board: papers equal to or greater than 220gsm.
Bond: the union of two substrates.
Bowl feeder: vibratory bowl used to feed components up a spiral ramp.
Calliper: the thickness of a sheet of board.
Carton:a container made from folding boxboard and supplied flat for erection when filling.
Carton blank: an unglued carton, which is glued during the filling process.
Cartonboard: material of defined substance and thickness made from one or more layers of paper to form a rigid or semi-rigid sheet.
Cat's whisker: the sharp pointed protrusion from a blister that can arise when using a cross cutting blade and slitter to cut out individual packs on a form fill seal machine.
Cavity wall: a carton or fitment where the sidewalls are constructed so as to form a hollow frame effect.
Chase:a frame used for locking cutting forms in place.
Check character (check digit):a character calculated from the numerical value of the other characters in the code that is used to ensure that the code is correctly processed.
Chevron pouch:a pouch where one end seal is in the shape of a chevron (like sergeants stripe).
Closure: means used to close a package where no seal is formed
EXAMPLE: Repeated folding to construct a tortuous path (ref. ISO 11607:2003(E)).
Closure integrity:C ondition of the closure that ensures that the closure presents a microbial barrier to at least the same extent as the rest of the packaging (ref. ISO 11607: 2003(E)).
Compliance qualification: Documented evidence that packaging meets the requirements for packaging for terminally sterilized medical devices based on testing for conformity to an agreed material specification (ref. ISO 11607: 2003(E)).
Code 39 (3 of 9): a bar code symbology that encodes 43 data elements (0-9, A-Z and 7 special characters). Each character has 9 elements, bars have two widths.
Code 128: a bar code symbology that encodes the complete 128 ASCII characters set.  Characters are made up of bars and spaces in three widths.
Co extrusion: a multi-layer structure prepared by extruding a number of polymers through a single die (with tie layers as necessary).
Cohesive failure: failure of a bond within the adhesive itself.
Contaminants: any unacceptable or unintended trace materials.
Corrugated board: board consisting of one or more fluted sheets between flat facing plies.
Crash-bottom carton: a carton where the base panel locks in place when the body is squared up.
Crashlock base: a carton where the base locks in place automatically when pressed from opposite corners.
Development: process of refining a prototype design or process to meet established product criteria (ref. ISO 11607: 2003(E)).
Die: (i) solid sheet or cylinder into which knives and rules are fixed to create carton shapes.
Die: (ii) solid sheet or cylinder into which knives are fixed to create label shapes.
Die-cut labels: labels that are cut to shape by a cutting die.
Double tuck carton: carton in the form of a sleeve, with extended side flaps that tuck in to form the end closures.
DSCSA: The Drug Quality and Security Act (DQSA), was signed into law by President Obama on November 27, 2013. Title II of DQSA, the Drug Supply Chain Security Act, outlines critical steps to build an electronic, interoperable system to identify and trace certain prescription drugs as they are distributed in the United States.
DSD: Duales System Deutschland.
Duplex board: a multi-ply board mainly made from mechanical pulp with a bleached chemical pulp facing layer.
EAN: Originally European Article Number and now used to denote International Article Number and the International Article Numbering Association.
EAN-8: Short form, 8-digit version of the International Article Number.
EAN-13: Full 13-digit version of the International Article Number.
Expiry date. Expiry(Exp) Date Nov 2001 means do not use this product after November 2001.
Failure: event in which a component of the package does not perform one or more of its required functions within the specified limits under specified conditions (ref. ISO 11607: 2003(E)).
Failure analysis: logical, systematic examination of an item to identify and analyze the probability, causes and consequences of potential and real failures (ref. ISO 11607: 2003(E)).
Field: an area in a computer file designated for one item of data.
Film: a non-fibrous, non-metallic flexible material available in a range of thickness.
Final package: primary containment system in which the product is sterilized (excluding shelf cartons and shipping containers) that protects the contents to the intended level over a specific period of time.
Note The intended level may be e.g. a barrier to physical, microbial or chemical challenges (ref. ISO 11607: 2003(E)).
Flexography: a rotary printing process that prints by the use of flexible relief plates that directly apply the image to the substrate.
Foil: rolled metal in flexible sheet form. Typically this is aluminium sheet, available in a range of thickness.
Form/fill/seal: a system where packs are formed (typically from film or foil), filled and closed in one continuous operation.
Gang: the term used to describe a grouping of labels supplied in sheet form
Gravure: a printing process where the image is engraved (electronically or chemically) in the form of cells in the surface of a metal cylinder. Ink is transferred to the substrate by passage between the inked cylinder and an impression cylinder under pressure.
Guard bars: auxiliary characters at both ends and centre of EAN/UPC bar codes which provide reference points for scanning and act as start/stop characters.
Gusset: the folded inward portion of a flexible bag.
Heat-seal able film: film that may be joined to itself or another substrate through the use of heat and pressure (without the use of adhesives).
Heat-sealing: joining together by using heat and pressure.
Heat-sealing adhesive: an adhesive coating previously applied that forms a bond between two surfaces when heat and pressure is applied.
Heat shrinking: application of heat to shrink a band of plastics material around product.
Impulse sealing: short rapid electrical resistance heating of metal strip or wire to seal plastics film.
Ink Jet Printing: non-contact printing process that uses a modulated jet of ink to spray the image onto the substrate.
Label [1]: t he USA Federal Food, Drug and Cosmetic Act in Section 201(k) defines "label" as a:
"display of written, printed, or graphic matter upon the immediate container of any article…"
Label [2]: ASTM, D 996 defines "label" as "a piece of paper or other material to be affixed to a container or article, on which is printed a legend, information concerning the product, or addresses. It may also be printed directly on the container".
Labeling: the USA Federal Food, Drug and Cosmetic Act in Section 201(m) defines "labeling" as:
"all labels and other written, printed, or graphic matter (1) upon any article or any of its containers or wrappers, or (2) accompanying such article" at any time while a device is held for sale after shipment or delivery for shipment in interstate commerce.
Labelling: Council Directive 92/27/EEC of March 1992 on the labeling of medicinal products for human use and on package leaflets defines "Labelling" as "information on the immediate or outer packaging".
Labelling System [1]: assembly of the package and label and any supplied information on usage that is included within or in contact with the final package (ref. ISO 11607: 2003(E)).